Virginia Trucking Accident Lawyer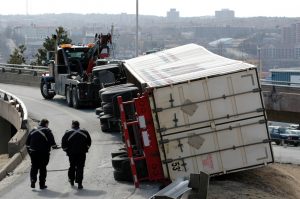 Tractor trailers, semi-trucks, 18 wheelers, can cause traumatic and catastrophic injuries when they are involved in motor vehicle accidents. The injuries and sometimes casualties that they cause are due to their size compared to a standard car, truck or SUV.
Time is of the essence. The insurance company for the trucking company was probably at the scene of the accident, building their defense and trying to mitigate the driver's fault and the extent of your injuries. Call Hilton & Somer to protect your rights. Se habla Español.
If you or a loved one has suffered due to the negligence of a tractor trailer driver, contact Hilton & Somer LLC, in Fairfax, Virginia. For more than four decades, our firm has been dedicated to helping injured people in Washington, D.C., Northern Virginia and Maryland secure the compensation they need for their injuries. Our attorneys are prepared to stand up for your rights in any personal injury or wrongful death case.
Experienced Counsel for Complex Cases
Trucking accidents are complex and require the wisdom of experienced Virginia Tractor Trailer Accident Attorney . Identifying all of the defendants in a commercial vehicle accident can represent a challenge to the injured party, particularly when the trucks are driven by an independent contractor. Our attorneys thoroughly investigate the scene of the accident. We focus on the details, investigating things like company logos, skid marks and interviewing witnesses to establish liability and causation.
To learn more about the causes of truck accidents, click here.
Contact our Virginia Tractor Trailer Accident Attorney
To learn more about how our experienced personal injury lawyers can help you, contact our  Virginia Tractor Trailer Accident Attorney at Hilton & Somer LLC by phone at 877-937-8346. All cases are handled on a contingency basis, meaning you pay no attorney fees unless we are successful in obtaining the compensation you deserve.