Maryland Lawyers Offering Legal Help for the Injured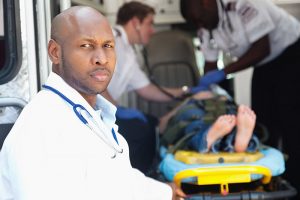 From an early age, we are all taught to avoid danger and things that can hurt us. Nevertheless, few people reach adulthood without experiencing at least some type of injury. In most cases, these injuries are accidents, whether they're the byproduct of youthful inexperience, a bout of clumsiness, or just sheer bad luck.
In other cases, however, personal injuries happen because another person acted irresponsibly. When people fail to act in a reasonable manner, their negligence can cause others to suffer severe physical trauma.
At Hilton & Somer, LLC, we help victims of negligence get the compensation they need to pay their medical bills, replace their lost wages, and cover all the other expenses related to their injury. If you have been injured in an accident caused by someone else's negligence, don't shoulder the financial burden of their carelessness. Our attorneys are strong advocates for individuals who have suffered traumatic personal injuries. We work relentlessly to make sure our clients get full and fair compensation for their injuries and expenses.
What Are Traumatic Personal Injuries?
Any type of personal injury has the potential to cause physical and emotional trauma. However, certain kinds of accidents are especially devastating. In our Virginia, Maryland, and D.C. traumatic personal injury practice, we help people who have experienced the following types of injuries:
Loss of hearing or vision
Paralysis
Facial injuries
Severe scarring

In most of these cases, the physical recovery is grueling, and the medical bills are overwhelming. The majority of these injury victims will never be the same. Their injuries can also take a serious toll on their families, putting immense strain on finances, relationships, and mental health. They may be forced to stop working, which means abandoning a career that might have taken years of schooling, training, or commitment.
Some traumatic injury victims must even modify their homes to accommodate wheelchairs, service animals, ventilators, or other medical devices and equipment. A traumatic injury victim might also require constant care and assistance, which can mean a fundamental loss of autonomy in performing even the most basic everyday tasks, such as getting dressed, bathing, and using the bathroom.
Why It's Important to Act Quickly
Because the law limits the amount of time you have to file a claim, it's important to speak to a V about your case right away. The statute of limitations for personal injuries is generally:
Virginia: Two years from the date of the injury.
Maryland: Three years from the date of the injury.
Washington, D.C.: Three years from the date of the injury.
In certain types of cases, the law permits an injury victim to file a lawsuit after the statute of limitations. However, these are exceptions. Don't assume that your case is time-barred. You may qualify for an exception, which means you can still file a lawsuit for injuries caused by another person's negligence. Your personal injury lawyer Fairfax VA can help you determine if you are within the time frame to file a claim.
Hilton & Somer, LLC: Fairfax, VA Personal Injury Lawyer
If you or a loved one has been seriously injured in an accident caused by another person's negligence, you may be entitled to money for your injuries, medical expenses, and other losses. Protect your right to receive compensation by discussing your case with an experienced Personal Injury Lawyer.
The personal injury attorneys at Hilton & Somer, LLC can explain your options and help you determine the next steps in your case. Get a free case evaluation today. You can reach us through our online contact form, or by calling 703-560-0700.