Experienced and Aggressive Fairfax Personal Injury Attorneys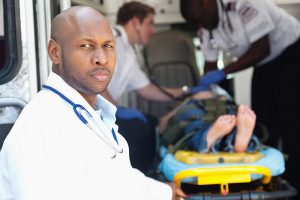 Most people think with the right preparedness and precautions, they can avoid danger. While it does pay to be prepared, there may be times in life when you simply cannot avoid an accident. In some instances, the negligence of another person will lead to life-changing injuries. In situations like this, calling our Fairfax personal injury attorneys is necessary in order to get back on your feet. The last thing you want to do is suffer in silence with injuries you suffered due to the negligent actions of another party.
When faced with traumatic injuries, you need to contact the Fairfax personal injury attorneys at Hilton & Somer, LLC. For many years, we have helped accident victims get compensation for their injuries. This compensation is generally used to pay medical bills and help them out financially after they have missed work due to their traumatic injuries. Taking on all of the financial burden that usually accompanies a traumatic personal injury can create a lot of problems in your life. With our help, you will be able to get the money you need to start rebuilding your life after a horrible accident. We will work tirelessly to ensure you get the full and fair compensation you deserve.
Details About Traumatic Personal Injuries
A traumatic personal injury is generally classified as an injury that products both physical and emotional trauma. There are a number of personal injury cases that include circumstances which are quite devastating. We have helped a number of people who have had traumatic personal injuries such as:
Traumatic brain injuries
Injuries to the spine
Amputated limbs
Burn injuries
Loss of hearing or vision
Accidents causing paralysis
Hearing or vision loss
Facial injuries that leave severe scarring

Generally, the physical therapy involved in the recovery phase of these types of injuries is quite substantial. For most people who experience these types of injuries, their life will never be the same due to the limitations they now face. In most cases, these limitations can put a strain on their relationships due to the hardship it places on their family and friends. Usually, the treatments required to recover from a traumatic personal injury can lead to financial problems. If the injuries are so bad a person has to stop working, they will not be able to provide for their families.
There are severe cases when a traumatic personal injury will require a person to have around the clock treatment, which is also very expensive. Instead of putting the burden of paying for these treatments on yourself or your family, you will need to pursue a lawsuit to get compensation for the guilty party in your case. The personal injury attorneys Fairfax, VA at Hilton & Somer, LLC. is passionate about helping victims of traumatic personal injuries in their pursuit of monetary compensation. Once we hear the details of your case, we can advise you on what your next logical move should be.
Why You Need to Act Quickly Following Your Accident
One of the biggest reasons why you need contact our personal injury attorneys immediately following your accident is due to the time limits in place regarding the filing of accident claims. Waiting too long can lead to you missing out on your chance at collecting compensation for your injuries. The statute of limitations for personal injury claims vary by state.
Virginia: In the state of Virginia, you have two years form the date of your accident or injury to file a claim.
Maryland: In Maryland, you have three years from the date of your accident or injury to file a claim.
Washington, D.C.: Just like in Maryland, Washington, D.C. gives you three years from the date of your accident or injury to file a claim.
There are some types of cases where the law will allow you to file a lawsuit even after the statute of limitations has ran out. Keep in mind that these are very rare exceptions, which is why you need to call us and schedule a consultation immediately after your accident. We will be able to let you know what your rights are and help you put a price tag on the injuries you have sustained.
Why You Need Hilton & Somer, LLC. On Your Side
Our law firm has helped countless injury victims and can do the same for you. Attempting to handle these complex claims on your own may lead to you being undercompensated. Our Fairfax personal injury attorneys will help to make sure you get the fair settlement you are entitled to. You can contact us at 703-560-0700 and schedule a consultation to find out more about how we can help you. Our lawyers will listen to all of the details of your case and then give you a breakdown of how we can help you. Don't suffer in silence, call us now and get the help you need.