Hilton & Somer, LLC Attorneys Represent Accident Victims with Back, Neck and Spinal Cord Injuries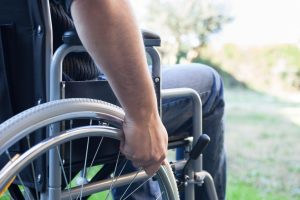 Car or truck accident victims most commonly suffer back, neck or spinal cord injuries. Recovery from this trauma, if possible, may consist of painful surgery, grueling physical therapy and costly on-going medical care. If your back, neck or spinal cord injury was caused by someone else's carelessness, you may be able to pursue a personal injury claim to recover damages.
At Hilton & Somer LLC, in Fairfax, Virginia, we focus exclusively on representing accident victims and their families in personal injury and wrongful death lawsuits. Since establishing our firm in 1965, we have worked with hundreds of individuals who have endured severe back, neck or spinal cord injuries.
Contact us toll-free at 703-560-0700 to arrange a free initial consultation with an experienced attorney. Together, you can discuss your neck, back or spinal cord injury. We work with clients in the Washington D.C. area, Northern Virginia, and Maryland. Se habla Español.
Recovering the Compensation You Need
We are a small law firm with experience and resources equal to that of our larger competitors. Given our size, we are able to carefully select the cases we take on, fully confident that we have the knowledge and skill needed to obtain results for our clients.
For those suffering from a back, neck or spinal cord injury, we aggressively seek compensation to cover:
Past and future medical expenses
Lost wages and loss of future earnings
Loss of consortium
Pain, suffering and emotional distress
When you choose us as your legal representatives, you will find that we focus both effort and energy on your case. Our commitment to you means that we will be there for you when you need us.
All neck, back and spinal cord injury cases are handled on a contingency basis, meaning you pay no attorney fees unless we are successful.
At Hilton & Somer, LLC Every Client Is Important To Us
We strive to make ourselves accessible when you need us, promptly returning phone calls and e-mails. You will be involved in all decision making matters related to your back, neck or spinal cord injury case. Contact us at 703-560-0700 locally to find out how we may be able to assist you.